Here's the link to this article. I encourage you to subscribe the Andrew's substack, The Weekly Dish.
A clarifying glimpse into the values of the Party of Trump

Oct 7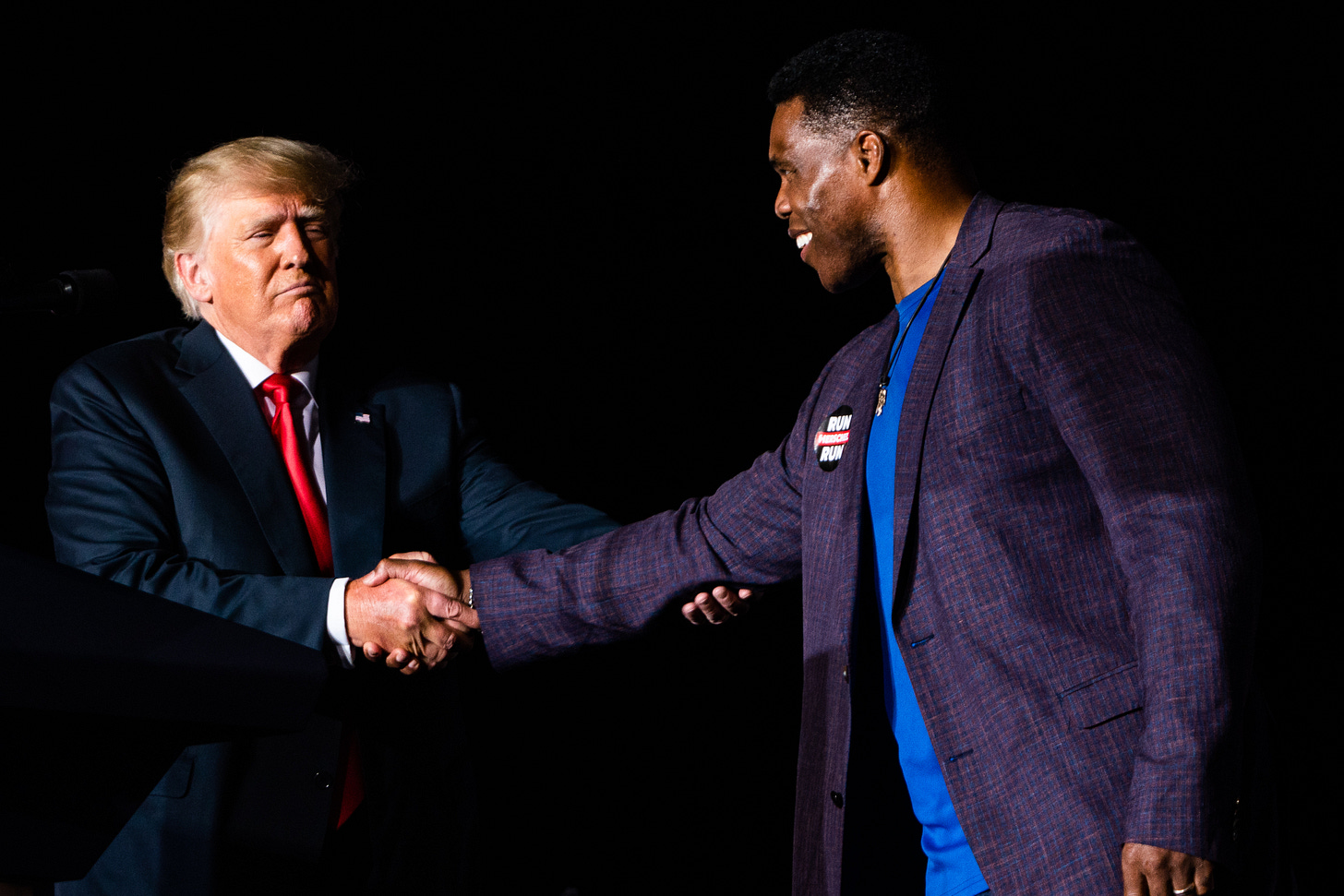 ---
There are times, I confess, when I decide to pass on writing another column on how degenerate the Republican Party is. What else is there to say? It's not as if the entire media class isn't saying it every hour of every day. And it's not as if the depravity of the party hasn't been a longtime hobbyhorse of mine. Unlike most of the Never-Trumper set, I was writing about this derangement on the right in the 1990s. I tore into George W. Bush's spend, borrow and torture policies. I wrote a book on what I thought conservatism really was in 2006 — and why the GOP was its nemesis. I couldn't have been clearer about what Palin represented — even as Bill Kristol selected her to be a potential president.
But then you come across the Senate candidacy of one Herschel Walker, and, well, words fail. No magical realist fiction writer could come up with something so sickeningly absurd. Walker is, of course, inextricable from his longtime friend, Donald Trump, who made his campaign possible in March 2021:
Wouldn't it be fantastic if the legendary Herschel Walker ran for the United States Senate in Georgia? He would be unstoppable, just like he was when he played for the Georgia Bulldogs, and in the NFL. He is also a GREAT person. Run Herschel, run!
Which is to say: he's a celebrity and a friend of mine. Enough said. That's how a cult picks a Senator. And it worked with the incurious, star-struck base voters who gave Walker a 55-point lead over his nearest rival in the primary.
There are a few problems, however.
Walker is, to start with, very dumb. I don't usually note this quality in a candidate and it doesn't make him a huge outlier in politics of course. Being brainy, moreover, can be a serious liability for some pols. But seriously: this stupid?
Here is Walker's grasp of climate change: "Our good air decided to float over to China's bad air so when China gets our good air, their bad air got to move." Here's his take on John Lewis: "Senator Lewis was one of the greatest senators that's ever been, and for African Americans that was absolutely incredible. To throw his name on a bill for voting rights I think is a shame." On the Inflation Reduction Act: "They continue to try to fool you that they are helping you out. But they're not. Because a lot of money, it's going to trees. Don't we have enough trees around here?" On natural selection: "At one time, science said that man came from apes, did it not? But if that's true, why are there still apes? Think about it."
Where do you even start? This man is running for the Senate for one of our major political parties. Not even the House. The Senate. He's clearly incapable of understanding even a scintilla of what his job would entail, and manifestly incapable of doing it.
Maybe Walker makes up for it in charm and eloquence? Nope. He speaks like someone with brain damage. (As a pro-football alum, it's amazing that the possibility of CTE has barely been raised, even though he has shown classic symptoms — no impulse control, murderous rage, incoherent speech, and even multiple personalities — for decades.) Just read any transcript of his incoherent rambling.
Is he just a good, honest guy who relates well to people? That can make up for a lot of flaws. But nope. He's a serial liar. He has bragged that he served in law enforcement (he hasn't); he said he'd been an agent for the FBI (untrue). He has lied about his business:
Walker claimed his company employed hundreds of people, included a chicken processing division in Arkansas and grossed $70 million to $80 million annually in sales. However, when the company applied for a federal Paycheck Protection Program loan last year, it reported just eight employees.
Much more seriously, Walker stalked, harassed and threatened to murder his ex-wife, threats that were enough for a judge to grant her a protective order in 2005. She had divorced him four years earlier, citing "physically abusive and extremely threatening behavior." At one point, he put a gun to her head and said "I'm going to blow your fucking brains out." This week, his son, Christian, claimed that he and his mother had to move six times in six months to escape his threats of violence.
Look: everyone's human; everyone deserves a second chance. But when a man makes the problem of fatherlessness a central part of his campaign, and turns out to be entirely AWOL in the lives of his own four children — from four different mothers, three of whom he only publicly acknowledged after the press discovered them — he beats even Boris Johnson for chutzpah. In the words of his own son this week: "Family values, people? He has four kids, four different women, wasn't in the house raising one of them. He was out having sex with other women."
Then the coup de grace: the mother of one of his kids has now said Walker had also paid for an abortion for her. She provided the receipt, the cashed check and a personal card from Herschel. He responded by saying it was a "total lie", and he had no idea who the mother of one his children was (he had previously identified her to the reporter). Her response? A classic:
He didn't accept responsibility for the kid we did have together, and now he isn't accepting responsibility for the one that we didn't have.
Oof. When asked yesterday if he'd reached out to any of the mothers of his children with all this in the news, he replied: "Why do I need to?" (He also says he hasn't spoken to his son since the news broke of the three step-siblings.) About the abortion itself, he said this to Hugh Hewitt: "Had that happened, I would have said it, because it's nothing to be ashamed of there."
And that's when your head explodes. A candidate who would make abortion a criminal act without any exceptions — the most draconian regime imaginable — also says that abortion is "nothing to be ashamed of." A man who says he believes that abortion is murder thinks it's also no big deal if he paid for one.
And for this he is celebrated by the Christianist right. They speak of absolution when he hasn't even confessed. They shield him from Satan. Ralph Reed went so far as to say that after the abortion news, "he '100 percent' expected evangelical Christians would stick with Mr. Walker. He even argued that the latest report could lift Republican turnout by rallying social conservatives to defend Mr. Walker."
I might add another twist: Walker's race. The party that decries identity politics picked him in part because he's black in a race against a black incumbent — the first African-American to represent Georgia in the Senate. Clarence Thomas and Alan Keyes were picked for similar reasons. But at least they were smart minds who had more qualifications than merely having been a football star. The use of race here is more egregious, creepy even — a sign to my mind of disrespect for black voters that a man like this was deemed qualified to represent them, or anyone else.
So here we have a celebrity candidate with no political experience, neither eloquent nor honest, who abandoned his kids, threatened to kill his ex-wife, and has serious mental health problems … who may hold the balance of the Senate in his hands. That's what the GOP now is. And if he actually paid for an abortion, i.e. in the view of sincere evangelicals, paid for the murder of an innocent child? Here's Dana Loesch's response:
Does this change anything? Not a damn thing. How many times have I said four very important words? These four words: Winning. Is. A. Virtue. I don't know if he did it or not. I don't even care.
It's rare to see this kind of nihilist consequentialism expressed so nakedly. It's rare to hear someone publicly say something so deeply hostile to any shred of Christianity. (Christians never believe the ends justify any means. Christianism is defined by that principle.) But nothing matters to the current GOP more than victory, by fair means or foul, by democratic processes or not.
I am not saying that the Democrats are not also corrupted by rank tribalism. At their worst, they are, as I often point out. I am saying that they do not compare with the current GOP in its hollowness and depravity and madness.
Walker shows that there is no principle they will not jettison, no evil they will not excuse, no crime they won't "whatabout," and no moron they won't elect, if it means they gain power. There is degeneracy among many Democrats, sure. But the Republican party is defined by this putrescence. Burn it down.