This article is from the Sand Mountain Reporter. I'm happy for the Carmack family but sad too. Beliefs aren't evidence. Correlation isn't causation. Explanation isn't argument (I encourage you to read this article.) I also ask myself, if God is so great why did they need modern healthcare?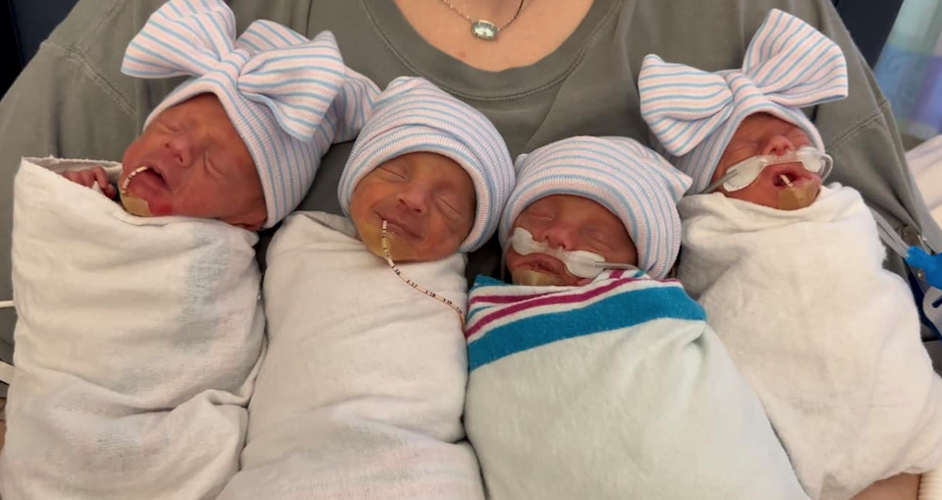 Hannah Carmack delivered two sets of identical twins, Evelyn, David, Daniel and Adeline, March 14 at UAB in Birmingham. The odds of the phenomenon happening is 1 in 70 million.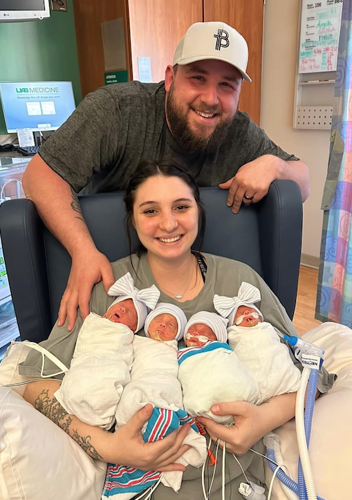 Michael Carmack and his wife, Hannah, seated, visit their four newborns in the hospital every chance they get. Pictured are, from left, Evelyn, David, Daniel and Adeline.
Michael and Hannah Carmack have always had a great faith in God.
That faith was tested over the past several months, but the couple remained steadfast in their belief and love of God and were rewarded four times over.
In October, the couple learned they were expecting multiple babies – two sets of identical twins, they would find out later – during their first pregnancy scan on Halloween day.
"It was quite a shock," Michael, 32, said. "It's something I'll never forget.
"Being that it was Halloween, we had planned to spend the day with our daughter, Emily, and for the day to be all about her. She loves dressing up. But instead, we got quite the surprise."
Michael said Hannah, a 29-year-old veterinary technician immediately spotted two sacks on the ultrasound screen.
She asked if it was twins, but the ultrasound tech didn't respond. Hannah then asked if it was going to be triplets. The tech ultimately put her hand on Hannah's knee and said, "Sweetie, it's four."
"We were kind of panicking," Michael said. "What were we going to do? I work in ministry. My wife is a vet tech. She makes better money than I do but we don't make a lot.
"We immediately thought we're going to need a minivan and a new house. Our current situation clearly wasn't going to work."
Hannah had planned to go on her dream mission trip to South Africa in November and when she returned, the couple had planned to try for another child.
However, when she initially learned of the pregnancy in September, doctors told her she was fine to continue with the trip.
"It was early in the process," Michael said.
But when they learned they were expecting four babies, doctors immediately told Hannah the trip would have to wait.
What are the odds?
The odds of conceiving spontaneous quadruplets is about 1 in 70 million according to the Journal of Family and Reproductive Health.
A quad pregnancy can occur when multiple eggs are released or when eggs split. According to some medical reports, only 72 recorded cases of spontaneous identical quadruplets exist worldwide.
High-risk pregnancy
Hannah said a week later the couple went to the first appointment with a high-risk doctor at UAB where they learned they were having two sets of identical twins.
"We were shocked," she said. "The Lord hand-picked us to raise these babies.
"As we were talking to the doctor that day, we went over all the risk that could happen and they told us each baby had a 50% chance of surviving. They offered to terminate some of them so that the others would have a better chance of coming to term.
"We told them that we wouldn't terminate them, that they were a gift given to us."
Michael agreed.
"We weren't taking any type of fertility treatments," Michael said.
"The Lord put this in our hands. From Day 1, it has been a testimony as to how faithful God is."
Hannah said she had a feeling the babies were special for more than one reason.
"I always knew they were meant to be something great one day, but I didn't know that the devil had a huge plan to try to take them away from us until months later when we were faced with a lot of different trials."
She said during a drive home from work one evening, listening to "Here Again" by Elevation Worship, the Lord spoke to her.
"He began to minister to me about my babies," she said. "The spirit was so strong in that car that I had to pull over because I couldn't quit crying … and this wasn't a cute little cry … it was an ugly one.
"I was so scared that something was going to happen to our miracle babies and the Lord met me right where I was and told me all of them would be OK. I'll never forget that night. It was the first time I began to fall in love with these babies."
As soon as she arrived home, she woke Michael and told him about her encounter with the Lord.
"He told me that while we were at UAB, the Lord told him the same exact thing.
"From that moment on, we were determined to do whatever it took to bring them to term, She said."
A variety of medical issues, including a suspected case of twin-to-twin transfusion syndrome with the girls, arose and tested the couple.
"We were devastated," Hannah said. "There was nothing I could do but pray for protection over our girls.
"We were closely monitored twice a week for a month. When I was 19 weeks pregnant, the doctors decided to send us to Houston, Texas, for a procedure to separate the twins in the placenta in hopes that Baby B (Adeline) would have a better chance of survival."
In the end, doctors determined the procedure was too much of a risk due to there being four babies and not just two. They were sent home for more close monitoring.
"I can't tell you how emotionally draining this all was up until this point," Hannah said. "We had a solution to possibly fix what was happening and to be told the best doctor in the US didn't want to perform the surgery on me was disappointing.
"But once again, the Lord reminded me that ALL my babies would be OK. At the end of the day, I had to hold on to that promise because from the outside looking in, our situation looked horrible and our chances of all of the surviving were getting lower."
The couple returned to regular monitoring appointments, with health concerns once again with Adeline cropping up. Week to week, the couple would hold out hope they could stave off delivery until closer to the children's due date.
"We began to celebrate the small victories we had," Hannah said. "If we could get to 24 weeks, they would all be viable. That was our first goal.
"Sometimes I questioned if I heard the Lord correctly. I honestly felt like I was David, crying out to the Lord. Many times, I would lay in my living room floor and cry until I couldn't cry anymore because I just didn't understand why this was happening to us and to me.
"I would talk to the Lord, saying 'I know you said that they would all be OK, but it doesn't seem like it.'
"I was in the valley. It eventually got to the point where I wasn't excited anymore about going and seeing the babies, but more so that I dreaded it because I didn't want to hear any more bad news."
Hitting a milestone
When the couple made it to 27 weeks, they celebrated.
"It was a great win," Michael said. "They told us that at 24 weeks they would be viable. If we got there, it would be a win. Any time after that would be a bonus. We were feeling really good about 27 weeks."
"We knew that if the babies came this week (Week 27), that maybe, just maybe, their lungs would be developed," Hannah added. "We walked into our appointment on March 13, and we were told that Adeline had more [issues]. That day I was hospitalized. The plan was I would get another round of steroids … monitor the babies and deliver on Wednesday or Monday of the following week.
"Well, the Lord had other plans. He orchestrated such a strategic plan for me and my babies. I began to have contractions around 10 p.m. that night three to five minutes apart."
She was given an IV and pain medication, bringing a lull in contractions until about midnight. By 3:30 a.m., doctors were convinced Hannah needed to undergo an emergency C-section immediately.
In the OR, Hannah felt she couldn't breathe and felt like she was smothering. She was given oxygen by mask and during what she said was the scariest moment of her entire life, she heard one of the babies crying.
"It was a sound I thought I would never hear," she said. "I don't know how much time passed before Michael was next to me, but I do know that during that scary time, the Lord let me hear three of my babies' cries.
"When I was able to talk again, I instantly asked Michael how Adeline was. He said she was great, but she was the fourth cry Hannah didn't hear.
"Her umbilical cord was wrapped around her neck when she was delivered."
Moments later, the head of the neonatal department came in and told the couple all four children were doing great, including Adeline.
Hannah delivered at UAB Women and Infants Center in Birmingham on March 14. Their daughter, Emily, has a birthday two days before that.
Evelyn, Adeline, David and Daniel are currently in a step-down unit where they are being prepared for coming home. They spend the past several weeks in the NICU. They will remain in the hospital until their technical due date in June.
Hannah has since been discharged but makes the trip to the hospital as often as possible to hold, speak to and sing with the children. Sometimes, their daughter Emily can come along.
"It's been a challenge with her, because she's still in school and all," Michael said. "That's another thing we've had to work around."
Each twin is breathing on their own and "doing well," Michael said.
"It was only because of the Lord's grace and mercy that the babies are here, alive and well," Hannah said.
"Time has flown by. NICU days are not always easy and there have been a lot of ups and downs with the babies. But we know that we have a heavenly Father watching over each of them. I truly believe these babies are meant to do something great in this world and that is why the enemy tried to take them away from us in the very beginning.
"I just know they are something so special."
She quoted a beloved scripture: Jeremiah 29:11, "For I know the plans I have for you declared the Lord. Plans to prosper you, not to harm you, plans to vie you a hope and a future."
Moving forward
Michael said while the family anticipates the arrival of their children at their home, they are busy making extensive changes.
Hannah has gone back to work part-time while Michael continues his work with Alabama Teen and Adult Challenge, a discipleship program for all types of addictions based in Lincoln.
The family has an 1,200 square foot home in Boaz with a nursery at the ready, but they know it won't work for the family for long.
In the meantime, they have purchased Michael's grandmother's home in Gadsden. The 3,000 square foot home needs extensive renovations and has been gutted, Michael said.
He works his one day off each week at the Gadsden home doing what renovation he can.
"My grandmother is in a memory care unit," he said. "But if there is one thing she remembers it is the fact we have the four new babies now."
He has created a GoFundMe page with a $20,000 goal. Photos of the gutting and rebuilding process are part of the GoFundMe page. Michael said the first goal is to try to find a way to make the kitchen larger to accommodate the family of seven.
"My goal with the GoFundMe is to be able to raise enough money that we can afford to hire someone to come in and do some of the renovation work," he said. "It's a lot of work, and I can only get there one day a week."
The couple also added thanks to the numerous supporters who have prayed for the family and provided for them in one form or another – whether it be baby supplies, gifts or prayers.
"We have such a great community and church family that has helped us throughout this process," Hannah said. "It is important for people to know the community of Boaz has served us, particularly our church family at Bridge Church Boaz. Without them, we couldn't have gotten this far."
---
Click here to read about Paul MacKenzie. He too heard the voice of God.